Rainy Lake Outfitters Inc. - Testimonials
Here's what a few of our customers have had to say about us.
Have a testimonial of your own to share? Click Here fill out our short testimonial form.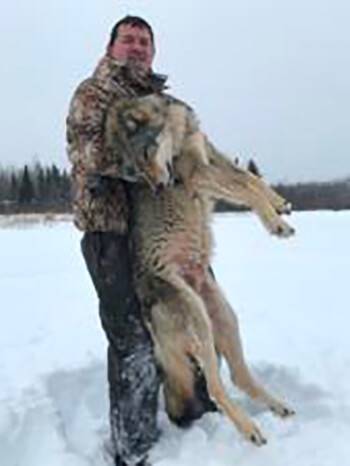 Kirk Byrd
February 2019 - Sioux Falls, South Dakota
Thank you Chad! This was my first experience hunting with an outfitter, or hunting out of my home state. Lodging is extremely comfortable, it feels like home in a hurry! After our first night visiting with Chad, it was apparent his knowledge of wolves in his area is unmatched. Don't let his humility fool you, this guy knows wolves! He puts in a TON of work, all trying to make sure guys like me have a good time, and a successful hunt. There are no guarantees in hunting any wild animals, especially wolves, but if you want the best chance RLO is the place! Be ready as it will happen fast! Excited to plan a return trip.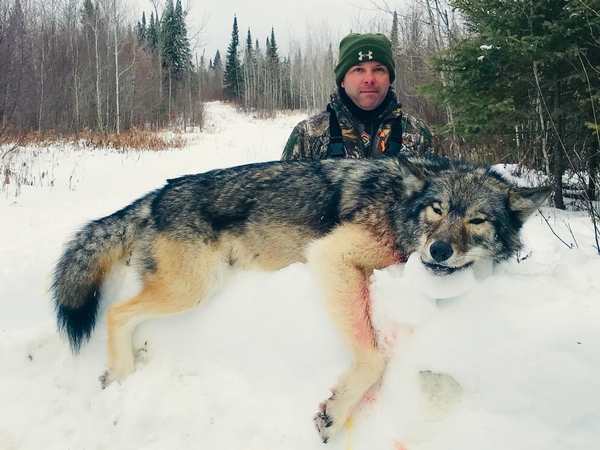 Steven Olt
Winter 2019 - Kentucky
This wolf hunt was the most amazing thing my wife and I have ever experienced to date. I was slightly apprehensive of whether I would be able to sit for 10 hour days in sub zero temperatures being from the south. Much to my surprise, this hunt is so much excitement, that I never noticed the sit time or the temps. My wife also does not like the cold, but she loved this hunt and said that she barely even realized it was cold in the blinds. My first day on stand I saw a trophy wolf, however I wasn't able to close the deal, at no fault of the guide. Just seeing a wolf in the wild is the most spectacular thing I have ever witnessed. I hunted hard for the next couple days and finally harvested a beautiful wolf out of a pack of 4. There are literally wolves everywhere in Chad's hunting area. You never feel like you have anything less then great odds of harvesting a trophy animal because Chad has done all of the required work and you know the wolves are there and can see a lots of signs of that. You also are set up on very good areas where long shots are not necessary. On top of great hunting, the lodge is fantastic and meals are perfect after a long day of hunting. In all honesty, my wife and I both felt like we were hunting, not with a guide, but with one of our good friends. Chad and his whole family are amazing people who like to hunt hard but have a great time doing it. They completely cater to the client so that the hunt is perfect for YOU, no matter if you are male or female, or have special requests. We are already working on booking our next trip to Rainy Lake with Chad. You will not be sorry for checking this place out. It is an amazing place to go and the hunting is off the charts.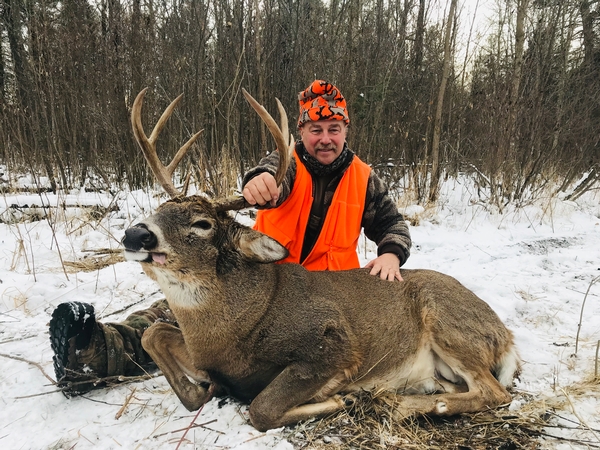 Darrell Zimmerman
Fall 2018 - WI
Thanks to Chad and his crew for making my 2018 Hunt a success. The way the lodge is setup and operated made a great place to come back to after a hard day of hunting. From the meals to the processing of my trophy Deer, everything was top notch. Chad and his guides attended to everything, I did very little but sit on different stands they placed me each day and wait for the right one to come along. A 20 yard shot was all that was required.. With only a few openings left for next year we booked right away to keep our spot. Thanks again to Chad and his crew see you all next Fall!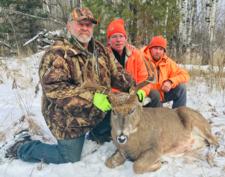 Albert Vanderplas
Fall 2018 - WI
If you are looking for a real fair chase hunt for big whitetail bucks that truly act like big bucks do... then Rainy Lake Outfitters is the place to go. The below zero cold Canadian weather didn't stop Chad or his guides Tony & Andy. From placing us on active hot stands, the beautiful lodge and outstanding meals thanks to cook Cheryl this was a great trip! Now leaving as friends thanks and we will see you next year. Already booked.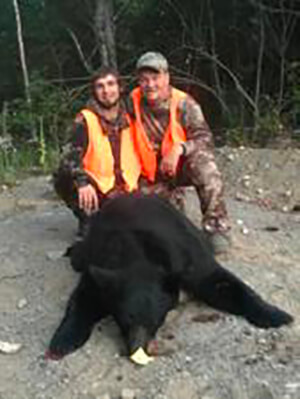 Brian Raymond
Fall 2018 - Gaylord, MI
Big thanks to Chad and Marty for a great week bear hunting. Two great guides dedicated on making sure you get what you come for. My father and I both shot bears and I couldn't have asked for anything more especially for my first bear! Awesome place and great food!! I will most definitely be coming back!!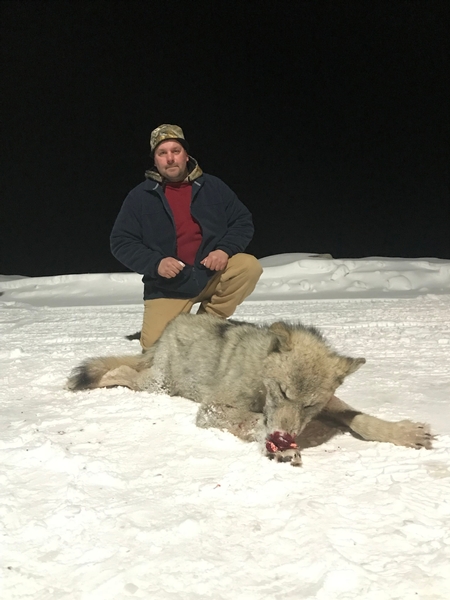 Scott Nail
winter 2018 - Altoona PA
First I would like to thank Chad for a great hunting experience. Last year I was lucky to see three wolves and this year I was able to shoot one. You not only get put on the best possible stands, but also get to see a lot of Wolf sign in the area along the trails going to the blinds and at the baiting sites. For those who plan to do this in the future, it may be difficult to sit for ten to twelve hours a day and not see a wolf, but stay positive, have a good attitude, and enjoy all aspects of the hunt. Thank you again Chad, I will be back to try again in the future.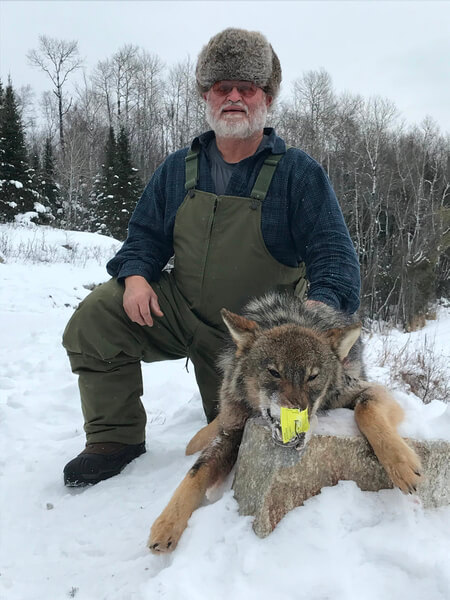 Joe Kimball
Wolf, Winter 2018 - Belle Fourche, South Dakota
All my life, I have wanted to take a wolf. I have booked other hunts, but never had an opportunity to take one. I did learn through the school of hard knocks, what I expected an Outfitter to provide. I diligently searched for an Outfitter that provided a hunt, based on giving the hunter the best opportunity to succeed, not just based on collecting booking fees. Finally I found an Outfitter that knows his business, cares about his clients and manages his wildlife resources. This is not to say that other Outfitters out there are not good, but with three prior wolf hunts in Canada, I have been dissatisfied with the quality and opportunity those hunts offered. While there are no guarantees in wolf hunting, Chad constantly maintains a number of baits in order to try and assure one of them is being visited as wolves move around in their territories. His knowledge and his drive to provide you a successful hunt assures that you truly have an excellent chance to take a wolf. Chad is a professional outfitter of the highest quality and I totally recommend his wolf hunts. Thanks Chad for giving me the opportunity to take a wolf. Finally!! Joe Kimball, Wildlife Biologist Retired, U.S. Fish and Wildlife Service.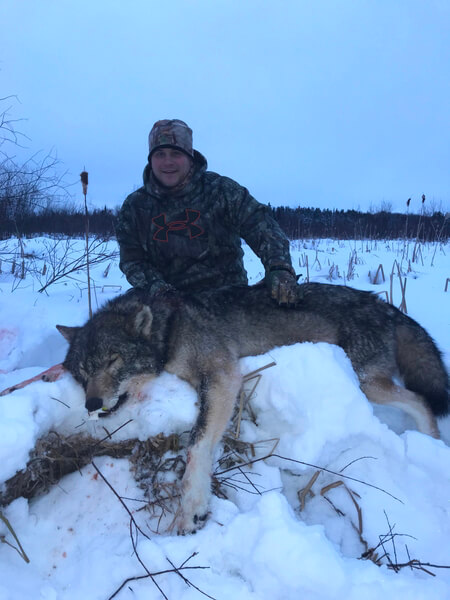 Matt Ursta
Wolf 2017 - Pittsburgh
The most exciting and craziest hunt I've ever experienced. Its a hunt that will be hard to top and one I'll never forget. Chad is an awesome guy and is very knowledgeable about hunting wolves. He'll do everything he can to put you on wolves. Great food, great lodging, and great guiding. If you're looking for a great wolf hunt, Rainy Lake Outfitters is the place to go. I'll definitely be back for another hunt in the future.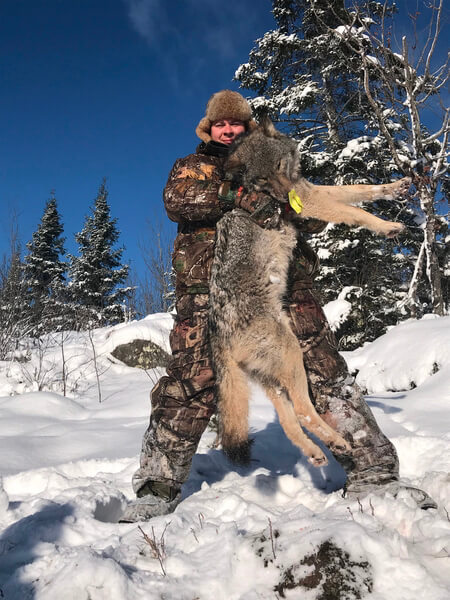 Rob Patterson
Wolf - Pittsburgh
If your looking for a top notch wolf hunt than look no further!! I seen 3 wolves in 2 days and shot the 3rd one. The lodge and food were absolutely amazing. I definitely plan on coming back to try deer and bear here.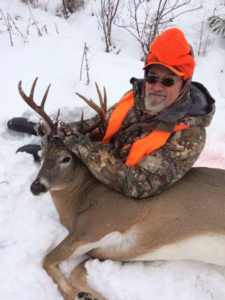 David Bartlett
Fall 2017 - Fort Frances, Ontario
---
We drove all the way from New York to hunt with Chad Hughes and Rainy Lake Outfitters. When we arrived we met up wth other hunters from Michigan, Maine & Minnesota. The lodging and meals were warm,filling and comfortable. Chad and his family made it all possible. As for the deer hunting. One picture is worth ten thousand words.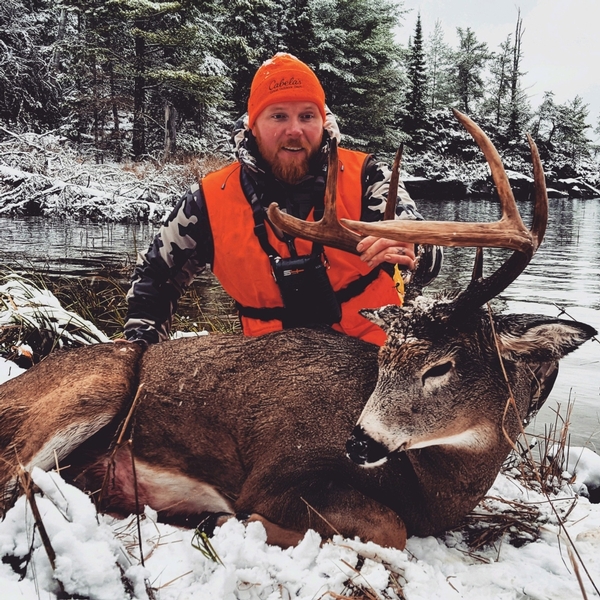 Red Kostrzewski
Fall 2017 - Newfolden, MN
Not many guides will take you 13 miles across a lake in a john boat before the sun comes up just to get you in a stand. That's the extra effort that Chad puts in to make sure you have the best chance of killing a high noon north woods corker. When you swing for the fences sometimes you're going to strike out but I set out to kill a mature buck and Chad kept working trying to make it happen. There's no better feeling than trying to calm down enough to radio Chad and tell him you shot a beast knowing that patience and faith in your guide finally paid off. Incredible time incredible crew, will be back again. Dandy buck eh?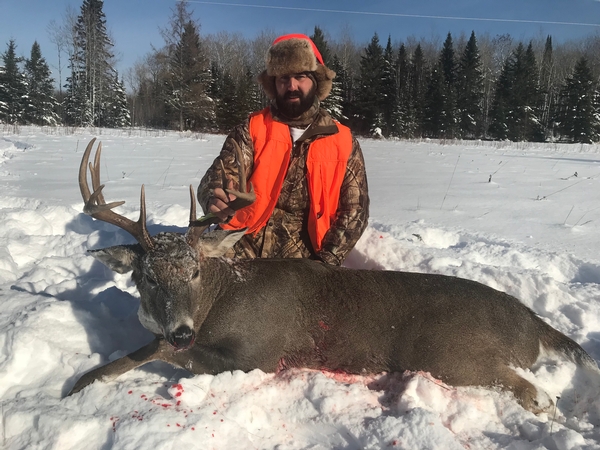 Matthew L Phillips
November 2017 - Deerfield Township New Jersey
Ontario has lots to offer for a dream hunt. Chad, his Family and crew make it a reality. Everything about RLO was first class. From the cabin to the woods was all an amazing experience. The food every morning and night were exceptional. RLO took the extra step to make sure we would get the best opportunity at harvesting a true Ontario Buck. I was fortunate enough to lay my sights on my biggest buck harvested to date. (220lb 10pt with two kickers) I'm forever thankful to Chad for putting in the time and dedication to his hunting grounds and making this a dream come true. I can not wait to come back to RLO for another hunt. Thanks again RLO.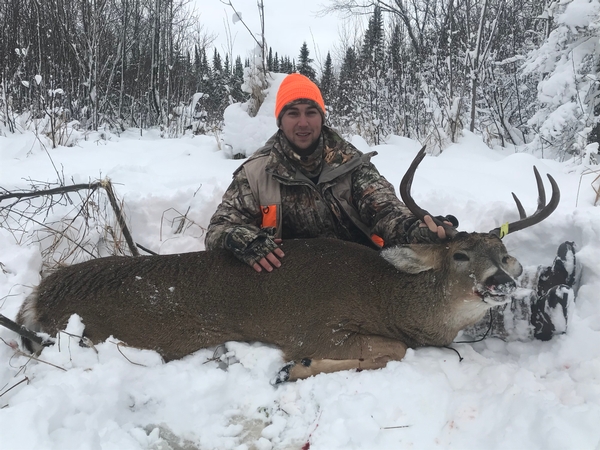 Anthony DePasquale
Fall 2017 - Millville, NJ
Hey Chad! I can't thank you enough for all that you and your family did for me and our group during our whitetail hunt. This was my first hunt with an outfitter and I was quite nervous when I arrived, but you quickly put my mind at ease. The low pressure made my hunt an enjoyable one. Everything about your operation is top notch. The lodge was amazing and the food was fantastic. Your knowledge of your hunting areas were right on point. Your hard work was greatly appreciated. Thank you for making my hunt a successful one.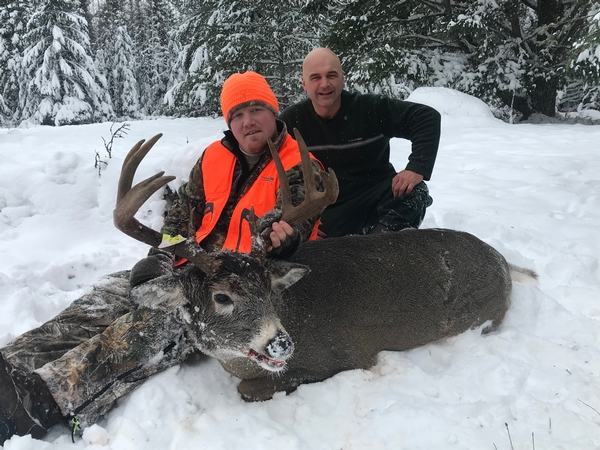 Mike McNiss
November 2017 - Cedarville, New Jersey
If your looking for a true free range Canadian whitetail hunt with first class accommodations this is your destination! I want to personally thank Chad Hughes and crew for his hard work and dedication that gave me the opportunity to harvest my biggest buck ever. Thank you Rainy Lake Outfitters! Oh and the cooking is great!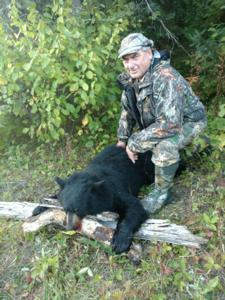 Dave D.
Fall 2017 - Shelby Mi.
I just want to say a big thank you to Chad and his family for an awesome week. From the time we arrived we felt like it was home . The food and lodging was great. Thanks again Chad. Will definitely be back Dave DeZwaan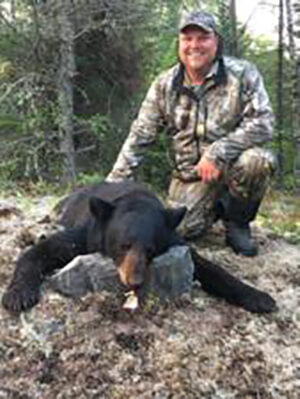 Ron Ballard
Fall 2017 - Iola, Kansas
From the time we showed up Chad made us feel more than welcome. He truly goes out of his way to make sure you have an enjoyable weekend and a successful hunt! The hard work is put in prior to your hunt and it shows with great stand locations that produce bears. I would not and will not choose a different outfitter for a more enjoyable bear hunting week! Thanks again Chad and family!!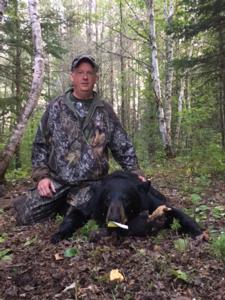 Jim Knox
2017 Fall Bear - Sand Creek, Michigan
Chad, wanted to thank you again for the week of bear hunting for my son and I. It was a great experience for both of us first time bear hunters. You and your dad were both a pleasure to spend the week with(and your mom's cooking was great). You have a great operation and i would definitely recommend this hunt to anyone. We are already planning our return! Again thanks for your efforts in making our trip a complete success. Jim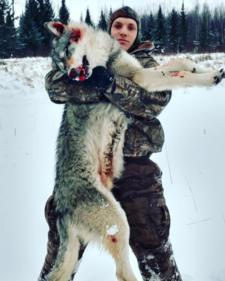 Elijah Weber
December 2016 - Marquette, Michigan
Just got back from my successful wolf hunt and would like to send a huge thanks to Chad Hughes of Rainy Lake Outfitters for guiding me to my first ever timber wolf. The cabin was cozy and the meals were excellent. Chad really went out of his way to make sure me and all of the hunters felt like we were at home and he made sure we had everything we needed to be comfortable in our blinds. He lent me his personal coffee thermos since I forgot mine and always reminded me and the other hunters exactly what we needed to pack to make it through all day sits. The guy really cares about his hunters. Not only was the hospitality wonderful, but 5 minutes of talking with him was all it took to convince me that he truly knows about the deer, bear, and wolves that he guides for. I will certainly be back in the future.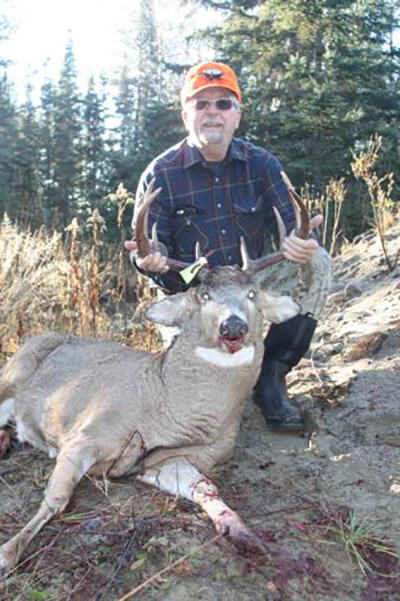 Chuck Manning
Deer Season 11/2016 - Hillman MI. 49746
Let me begin by saying I went to this hunt very apprehensive as I had been ripped off before by a "guide service" . Well that did not happen here at all and I only have glowing reviews for Chad, his Dad and guides Andy and Marty. We hunted dark to dark every day and they did everything they could to try to make this hunt fantastic. Last day after 4 days of no deer and it was my lucky day. Biggest buck I had ever taken and they treated it as there own. They busted there behinds to get great results and I would not hesitate to give then a 10 out of 10 for there efforts and knowledge. It was a hunt of a lifetime for me and only because of them can I say that. You can pay more I am sure but you will not get a better experience in my humble opinion. My kindest regards to them for being gentlemen, knowledgeable and willing to do what they could to make you successful , they have a never quit attitude and I will be grateful to them forever.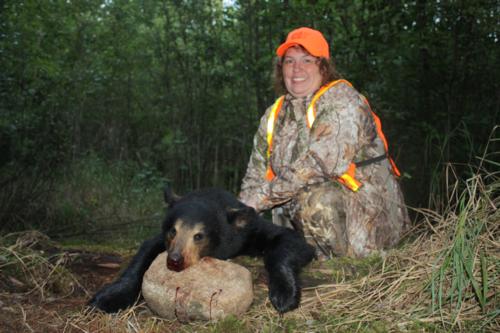 William and Katrina Capwell
Fall Bear Hunt 2016 - Montrose, PA
We just wanted to say thank you to Chad , and his parents for a great time at Rainy Lake Outfitters. For a great week with great food and lots of laughs and good stories. We both had a really good time hunting. Even as we were the last two to tag out Chad worked really hard to make sure that we both tagged out. Really looking forward to coming back in the future for another hunt. If anyone is looking for a great hunt and great company, Rainy Lake Outfitters is definitely the place you want to go! And by the end of the week you truly feel like you have gained some great new friends. Thanks again Chad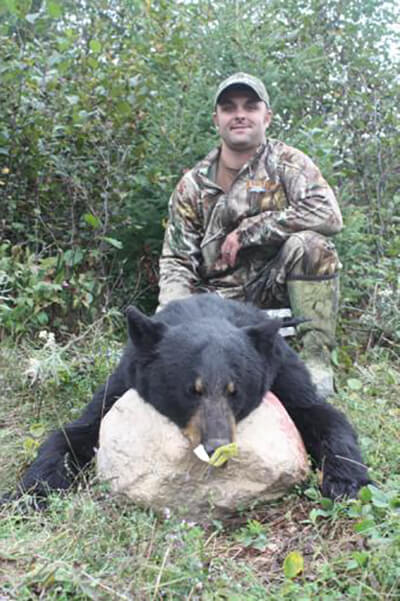 Zach Brown
Fall 2016 Black Bear - Albion, Indiana
I got invited on a hunt up to rainy lake outfitters for a 2016 fall bear hunt, not ever bear hunting before I had no idea what to expect. I spoke with Chad on the phone a time or two before going up there and messaged each other back and forth a few times, he answered all the questions I asked throughly and made sure I got the information I needed. After arriving at camp I felt right at home!! The cooking was unbelievable and the camp was nice and clean. I shot my bear on the second night in camp and was very impressed with how quickly they got to me and got my bear out of the woods and field dressed. It was an experience of a lifetime for me and I will guarantee I will be back in the very near future. The fishing was top notch also!!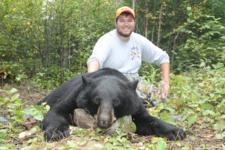 Mike Selby
Fall 2016 - Wawaka, Indiana
I just want to say thanks again Chad for an awesome bear hunt, not only was the hunting awesome but the lodging and meals were great too! I would recommend you to anyone looking for a great bear hunt and I can't wait to get back up there again. Thanks, Mike Selby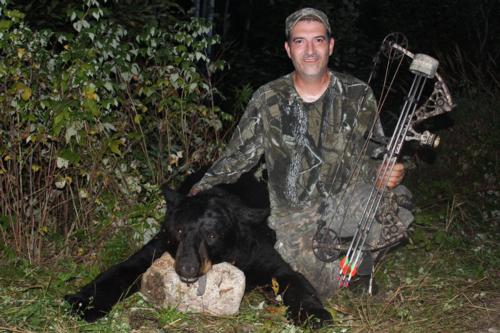 Billy Lang
Thanks to Chad of Rainy Lake Outfitters for an amazing week! You really delivered big for us all tagging out by Tuesday. My boys, Charlie and I had the hunt of our lives. All taking great bears with two being around the 400 lb mark and measuring Pope & Young Class. Your new lodge is a perfect setup and the food is unbelievable, who would have guessed prime rib and wild blueberries with cheesecake desert at a hunting camp? Topped with great fishing in the mornings and the days after we tagged our Bears. You really do have it all at your place! We are looking forward to 2017 when we do it again and get to hunt some of your new area!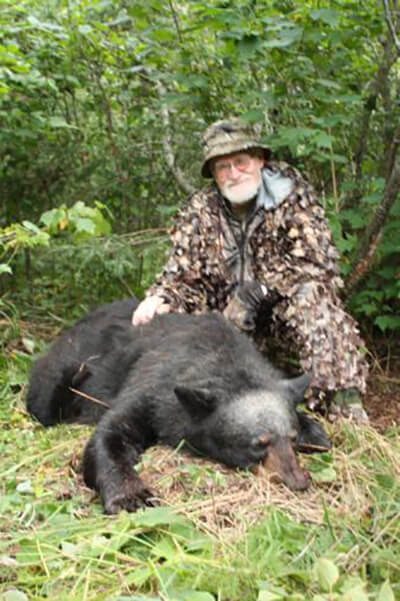 Chuck Peterson
My first Canadian Bear hunt was magnificent in all respects. I drove to Ontario and I harvested a great bear. I'm the 80 year old guy in the ghillie suit with the bear that has matching white hair. Chad is the best outfitter/guide I have ever shared a hunt with...couldn't get a better host and new friend. The new and very well designed camp buildings were very comfortable. A most enjoyable morning of walleye fishing yielded an impressive stringer of fish including a 22" one. Only one complaint....the food was too good and plentiful...I gained 5# in my five days at Rainy Lake Outfitters. Who could complain about prime rib,walleye,and home baked deserts? I hope to return in 2016 with a granddaughter for her first archery bear hunt. Happy hunting. Chuck Peterson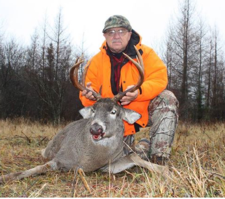 Tony Monaco
Fall 2015 - Fort Frances
I had an amazing time! Chad, and his father were really good to me and my son during this hunt of a lifetime. They could not be more accommodating and gracious. Every last detail on my trip was thought out and executed to the fullest extent. They made me feel like I was a part of their family. I got my birthday wish up there by shooting a big buck. Thank you Chad and the guys for making this trip a trip of a lifetime. I will be seeing everyone Fall 2016!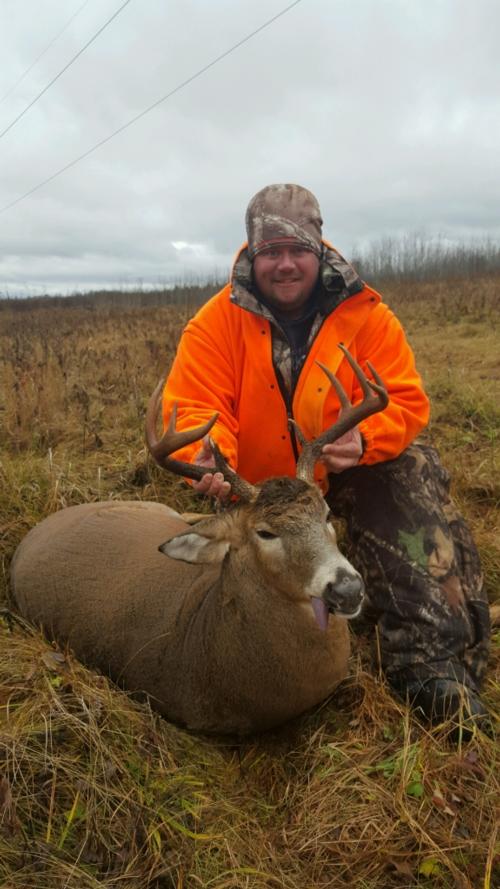 Darien Lerohl
Fall whitetail - Fort Frances, Ontario
Chad, thanks again for a great hunt, I had a great time getting to know you guys. Chad and his crew will go out of there way to get you a deer. The food was beyond excellent and the view from the cabin was fantastic. I will recommend you to anyone who is looking for a Canadian hunt. Looking forward to coming back again!!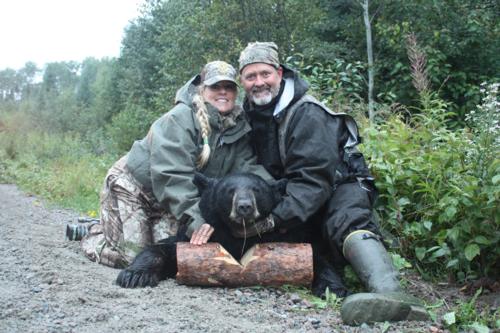 Cindy Jackson
Late summer 2015 - Annawan, IL
Chad, Just want to say "thank you" for an amazing hunt and vacation!!! We seen many bears and I was able to tag a beautiful black bear with my cossbow. It really is an amazing place you have there at Rainy Lake Outfitters. First trip to Canada, first shot with my new crossbow and first black bear!! Couldn't be happier! The lodge is beautiful, the Lake view is incredible and the food was scrumptious! The hunt areas are amazing and the views from the stands sure make you appreciate Canada's beautiful landscape and habitat. Chad did everything to make our hunt and stay everything we could hope for. Would definitely recommend Rainy Lake Outfitters to anyone looking for a great hunt and/or vacation!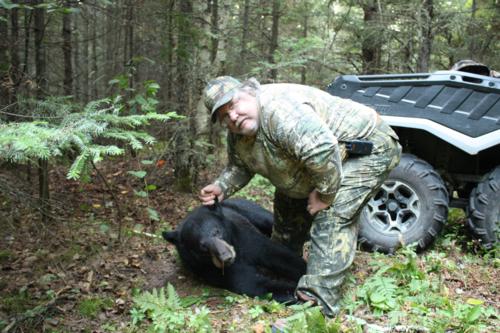 Mike George
Fall 2015 -
At 62 years young and slightly out of shape (and being straight with Chad) he set me up with a hunt that fit me perfectly (from the ground) I killed a beautiful bear the first evening. Food and lodging great, Chad is a friend for life I'll be back again for bear and wolf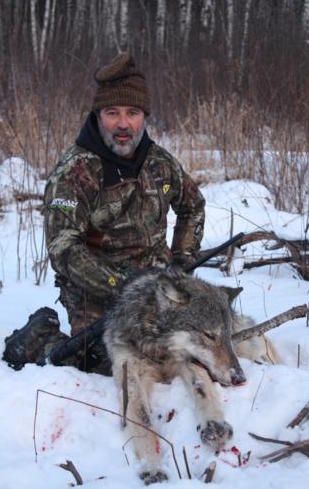 Larry Black
Winter 2014 - Cordova Illinois
Chad, Thanks for a Great Wolf hunt! Hard to believe I was successful first hunt! The heated shack made it easy to sit all day. I hope to get back up there and enjoy a bear hunt with you! You have a great operation and you customized it to fit my request. You definitely know the area and you have access to a lot of great hunting.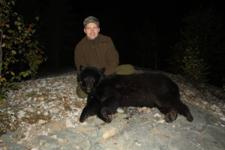 Jan Madsen
autumn - Køge, Denmark
Hi Chad. Once more.. Thank you very much for a super hunting week. You are a great host, and you know your business. I had the hunt of my life. It was very exiting when my bear appeared. It is true. It is not always about size. The experience counts just as much. Very nice cabin you have, and a big plus that we could do some fishing and hunt small game in our "sparetime" between the bear- and wolf hunts in the afternoon.. :-) I would recommend your operation at any time and I really hope that I can return someday. Best regards from Jan Madsen.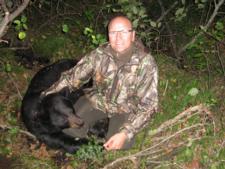 Kim Madsen
Autumn 2014 - Roskilde, Denmark
Hi Chad. Thank you for a great week of hunting in your hunting area. I don't think that we could have asked for more and I really hope that we will be hunting with you again some time in the future. I am really pleased with the beautiful bear that I got and can't wait to get it from Telesky. You have my best recommendations. Best regards Kim from Denmark.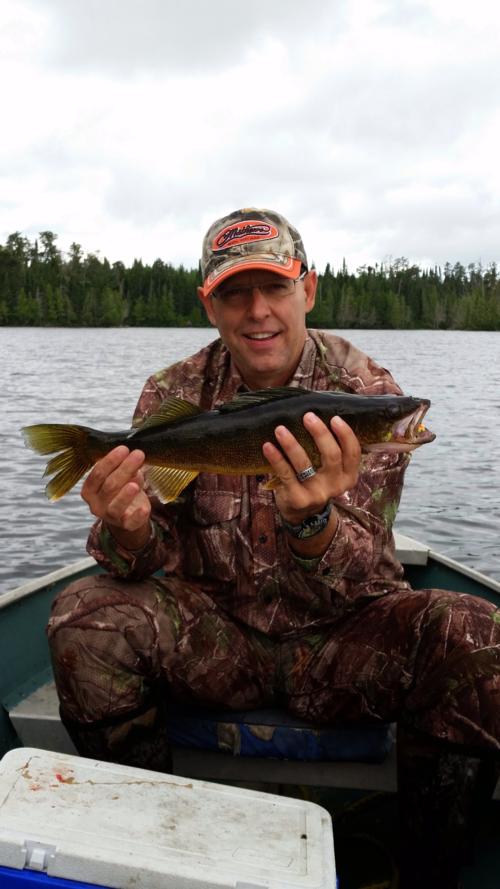 Orlando
Hello Chad, Just wanted to thank you for a hunt of a lifetime. My bear was more than I could have hoped for. I'm making plans to come back next year. I also wanted to thank you for the great time we spent fishing. I was treated like a friend not a client, you have a first class operation and I couldn't thank you enough. Thanks again Orlando Cabrera
---
Send Us A Comment
To our past clients: We appreciate your comments and if you would, fill out the form with comments and a photo about your experience at Rainy Lake Outfitters Inc.. Fields marked with * are required. Please enter the Name field how you want your name to read on our website (Examples: John Doe, J. Doe, John D., John Doe Corporation).